2017 January: News
Info about the Wastecooking Japan trip:
Cinematic premiere of the Wastecooking documentary in Tokyo
Two-week promotional tour through Japan with cooking events
2016 December: News
refugee.tv Austrian tour
Wrap-up shoot in Salzburg Land
2016 November: News
Post-production for the second season of Wastecooking
Putting the finishing touches on the most recent European trip
To be broadcast in spring 2017/ ARTE, ORF
2016 October: News
Gross am Land broadcast weekly on Servus TV
Gross am Land: Saturdays, 6:40 pm on Servus TV
Watch all episodes and see the programming schedule by visiting the media library:
2015 – 2017: refugee.tv
refugee.tv is a cross-media project that was started by David Gross in September 2015. It is Europe's first internet broadcasting channel run by refugees.
refugee.tv provides a platform for filmmakers and journalists who come to Europe as refugees. Often they have been forced out of their home countries as a result of their critical reporting. Films and reports are produced in cooperation with a German-Austrian film crew.
refugee.tv offers film workshops for young refugees, runs temporary TV studios in refugee shelters and takes part in art festivals with the refugee.tv support band. The multicultural team led by David Gross includes media representatives from 10 countries.
Teaser first report
Crowdfunding video
Teaser Heimatfilm
Visit refugee.tv's Facebook page

2015: Wastecooking Festival Film
In addition to the TV show, a Wastecooking documentary film was also made and celebrated its world premiere at the renowned IDFA film festival. Both the film and the TV show have won numerous awards.
Wastecooking – Kochen was andere verschwenden ('Cook What Others Waste')
(AUT 2015, 80 min)
Concept, writer, presenter: David Gross
Director: Georg Misch
Camera: Daniel Samer
Production: Mischief Films
Awards:
Deauville Green Awards 2015 – Doc Silver Award
Cannes TV & Media Award 2015, Silver Dolphin
NaturVision 2016, German Conservation and Sustainability Film Award
Ekotopfilm 2016, Human Activity Success Stories
2014 – 2017: Wastecooking TV
Wastecooking is a transmedia project launched on May 1, 2012 by David Gross. This consumerism-critical cooking show was also adapted for TV. In two seasons, David Gross travels with his waste kitchen and waste-mobile through 10 European countries.
Season one: Filmed in summer 2014, broadcast in spring 2015 (ARTE, ORF)
Season two: Filmed in summer 2016, broadcast in spring 2015 (ARTE, ORF)
The full-length feature film of the Wastecooking European tour was first broadcast on ORF (Austrian Broadcasting Corporation) in June 2015. The culinary road trip movie received 2015's second-highest TV ratings in the documentary broadcasting slot.
http://orf.at/stories/2279762/2279191/
Wastecooking TV documentary clip
2013: Ohne Geld durch Österreich
In the summer of 2013 David Gross traveled around Austria for five weeks without money. He chronicled his experiences in a blog that became the source of interesting discussion. David Gross is working on a travel book that will also address his experiences during this summer of travel.
2012 – 2016: Austrian Doctors
Hilfe, die bleibt
Austrian Doctors provide volunteer medical assistance in the world's poorest countries. They train staff, run hospitals and build schools. Together with cameraman Daniel Samer, David Gross produced three films for Austrian Doctors. In cooperation with the parent organization German Doctors.
Serabu Community Hospital, Sierra Leone
St. Francis Assisi School, Calcutta
Calcutta doctor project

2012 – 2017: Wastecooking
Webseries, performances, initiatives and exhibitions
This consumerism-critical cooking show is a transmedia-project. It uses multiple forms of media to raise awareness of the issue of food waste and demonstrate creative solutions to the problem.
Wastecooking can be experienced first-hand at art festivals, as part of exhibitions and through performances. David Gross brought Wastecooking to life on May 1, 2012. He acts as author, dumpster diver and cooking activist. Wastecooking began with an underground webseries, political dumpster diving tours and actionist cooking events. The project became popular with a larger audience through a TV series and cinematic film.
The Wastecooking cinematic documentary won awards at film festivals in Germany, France and the Czech Republic. In January 2017 the film will premiere in Japan. David Gross will be taking a two-week trip to Japan to present the film and participate in consumerism-critical cooking events.
Website: http://www.wastecooking.com/
Teaser
Days in Trash – Clip
Free Supermarket
Visit wastecooking's Facebook page

2012: Holy Waters
AUT 2012, 75 min
Screenplay/director: David Gross
Editing: Bernhard Braunstein
Holy Waters, David Gross's second full-length feature documentary, premiered in 2012 at the Crossing Europe film festival. This film deals with people who worship water and the director's grandmother who abhors it.
David Gross received the Bundes-Startstipendium für Filmkunst grant for Holy Waters.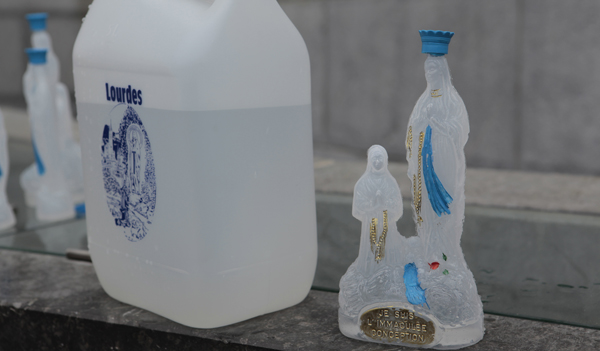 2012: Nepalesische Hüttenwirte
AUT 2102, 45 min, Servus TV
Part two of visual field research in the Austrian Alps. Sherpas train to become alpine innkeepers in Tyrol.
2011-2016: Kulturfonds (Culture Fund) Awards
The cultural department of the City of Salzburg awards prizes each year for outstanding achievements in art, culture, science, research and youth work. David Gross, along with his colleagues Bernhard Braunstein and Martin Hasenöhrl, won the 2011 Kulturfond advancement award. The trio has profiled each year's winners ever since.
Info and Videos:
2010: Die Hirschrufer
Part one of visual field research in the Austrian Alps featuring hunters who imitate the rutting of the deer in Salzburg and participate in the European Stag Calling Championships.
Watch the entire film by visiting:
2009 – 2012: Mockumentary Double
Lenz (AUT 2009, 33 min) is a fictional documentary created in cooperation with Bernhard Braunstein and Martin Hasenöhrl. Georg Büchner's legendary novella serves as inspiration for this drama of a young theater student in the mountains.
Verstrickungen (AUT 2012, 18 min) is a mockumentary that revolves around a mysterious family constellation in a remote hotel in the forest. Director: David Gross / Camera: Daniel Samer
Both films premiered as part of Cinema-Next.
2008: Pharao Bipolar
Pharao Bipolar – (A 2008, 60 min)
This documentary portrays actor Werner Ludvig Buchmayer who leads a life between the psychiatry hospital and the stage.
Directors: Bernhard Braunstein & David Gross
Production: Mischief Films
Best Austrian Short Film (Diocese Graz-Seckau Prize) / Diagonale 2008
2006: Reisen im eigenen Zimmer
AUT / 2006, 57 min
Reisen im eigenen Zimmer is the portrait of Salzburg writer Gerhard Amanshauser. Born in 1928, the poet suffered from Parkinson's for 12 years. He himself said that if he were able to write another book, it would be called "Reisen im eigenen Zimmer" ("Travels in My Own Room").
Directors: Bernhard Braunstein & David Gross / Editors: Dieter Pichler / Photos: Werner Schnelle
International premiere: Solothurner Filmtage 2006
Honorable mention: Diagonale06
2005 – 2011: Gross am Land
In 2005 David Gross filmed the first of 260 episodes of Gross am Land. This series quickly achieved cult status on the TV station Salzburg TV and continues to be shown on its successor station Servus TV. Gross am Land is an early form of slow TV: slowed-down opportunistic journalism rather than breathless sensationalized reporting.
Episodes and info:
Double episodes of Gross am Land are shown Saturdays at 6:40 pm on Servus TV.
Trailer
Jägerstammtisch (Hunters' Meeting), 2011
Sautrottel Episode, 2006
Argument on the Autobahn, 2007
2003: Stellvertretend in den Tod
Screenplay/camera/director: David Gross
Editing/post-production: Wolfgang Schwarzenbrunner
In 2003 David Gross celebrated his feature-length film debut at Diagonale03 with Stellvertretend in den Tod. This documentary about his own grandfather's Nazi past created heated debate among audiences and critics.
"David Gross impressively broke the mold of traditional documentaries," wrote Der Standard newspaper.